On April 6, 2009, Ex-Chief Bill Finney applied to be the next Minnesota US Marshal. Reportedly, Finney is contemplating another run for the Ramsey County Sheriff's Office, as well. After you have explored this entire website, and read all of the information pertaining to Bill Finney that we have published, to date, ask yourself if this is the kind of person you want to see appointed or elected to any leadership position.

Ask yourself why Finney has not filed a slander/libel/defamation lawsuit, concerning the information we have published about him on this website. Consider, too, that unlike in a criminal trial, "the truth" is always a defense in a civil lawsuit!

You might wonder why we continue to call so much attention to Bill Finney, when it was Aaron Foster who, in fact, murdered Barbara. Imagine sitting through a criminal jury trial, after 27 years, believing with all of your heart and soul, that your murdered loved one might, finally, have justice. Instead of finding truth and justice, however, you watch as the defense attorney and a former top law enforcement official (Finney) drag your loved one through the mud with outright lies! Instead of finding Justice For Barbara, what we witnessed in that courtroom was tantamount to watching, helplessly, as Aaron Foster murdered Barbara, all over again. This time, however, Bill Finney was his accomplice. Many actions by Finney, on Foster's behalf (beginning on the morning that Barbara was murdered) helped Foster evade arrest and an indictment for Barbara's murder. However, it was Bill Finney's testimony that allowed Foster to get away with murder, indefinately. Aaron Foster has never been able to wash the stain of Barbara's innocent blood from his filthy hands. Now, however, neither can Bill Finney!

Our fight for Justice For Barbara is far from over! We will continue to publish and distribute the truth about the relationship between Aaron Foster and Bill Finney. Finney helped Foster get away with murder, because Finney has a multitude of dirty little secrets. And, Aaron Foster is the keeper of those secrets!

Finney believes that all of this is behind him, and he hopes that we will, simply, go away as he pursues his political ambitions. He could not be more mistaken! We will utilize any and all lawful and necessary steps to ensure that Finney is never elected nor appointed to a position of power, again...

Questions? Feel free to write to us at:

contact@justiceforbarbara.com

More to come. Check back often.

Finney hired Foster at the Saint Paul Police Department in 1998. Before working in the SPPD property room, Foster worked for an interstate drug trafficker; Ralph "Plukey" Duke, who is currently serving a life sentence in Federal prison. Duke is, also, a friend of Finney's. Before he died, Foster's uncle, a veteran SPPD officer, confirmed that Foster worked for this particular drug trafficker. A credible witness stated that Foster's role in this interstate drug organization included: "selling drugs" (cocaine), assisting "with drug running and car pick ups from California and Texas", and "money laundering". Another credible witness stated that Foster said that he was in Duke's house before it was raided. Foster told the witness that "he received a phone call just before the bust happened and got out". When asked, by the witness, who called and warned him to get out of Duke's house, Foster stated, "you have to have the right friends". Another, credible, witness stated that Foster said that, in fact, it was Finney who called him at Duke's home and warned him to get out of it, moments before Duke was raided.

Source of information contained in image, below: www.bop.gov



Foster, also, worked for Capital Investigations and Security Services, Inc., which is owned and operated by Sheldon Anderson and Ken Pluff/Brennan. Anderson is among Finney's closest friends and served as Finney's campaign manager in his unsuccessful bid for Ramsey County Sheriff, in 2006. Anderson is, also, the current mayor of Wyoming, Minnesota. Ken Brennan is a very close friend of both Foster and Finney. Brennan is an ex-police officer who lost his job after he was convicted in Federal court for his role (while he was a police officer) in his family's interstate drug trafficking ring, which operated between St. Paul, Minnesota and Chicago, Illinois. In exchange for testimony against members of the Chicago Latin Kings, the officer was given a suspended 18 month federal prison term. Ken Pluff was, then, allowed to have his conviction expunged and, consequently, was allowed to change his legal name from Kenneth Pluff to Ken Brennan.

"Police say family ran cocaine ring"

Minneapolis Star Tribune Jan 22, 1991



"One of Minnesota's largest cocaine trafficking operations has been broken up with the arrests of a St. Paul couple, their five adult children and other relatives and associates, authorities said Monday.

Kenneth Pluff, 52, and his wife, Kaye, 50, allegedly helped direct an illegal drug distribution business that stretched from Miami to rural Pine County in Minnesota. Police raids in at least two states Saturday yielded dozens of weapons, cash and 44 pounds of cocaine worth at least $700,000, authorities said.

"This is a major, major case, one of our biggest," said Mark Shields, superintendent of the Minnesota Bureau of Criminal Apprehension.

While the size of the Pluff operation did not match that of Ralph (Plukey) Duke, the imprisoned Twin Cities cocaine kingpin, "It certainly had the potential to evolve to that level," Shields said."

"...According to a source familiar with the family who spoke on condition of anonymity, Cindy Pluff, 26, took over the cocaine business from a boyfriend who died of a drug overdose several years ago in Pine County. It allegedly involved shipping large quantities of high-quality cocaine from Miami to Minnesota through Chicago..."

"Family with twisted dream became drug ring, police say // Adult members face charges of cocaine trafficking"

Minneapolis Star Tribune Jan 28, 1991

"...Sometimes Ken and the older boys got in trouble with the law - minor property crimes mostly. Ken was put on probation for theft in 1980. Son James spent four months in the workhouse for burglary in 1985. But none of the Pluffs ever saw the inside of a state prison."

"...Before long, authorities say, the whole family - down to the youngest school-age child - was involved in bringing hundreds of pounds of cocaine to Minnesota. Suddenly the Pluffs were living a dangerous version of the American dream, complete with fancy cars, fat money rolls and a farm that bristled with with barbed wire and assault weapons. But then this month every adult in the immediate family was arrested and charged with participating in one of Minnesota's biggest illegal drug rings."

"...Today six of the Pluffs will appear in U.S. District Court in Minneapolis and ask to be released on bail pending trial. Federal prosecutors are expected to oppose that request.

In affidavits filed to support the criminal charges and a dozen police raids, authorities say the Pluffs worked with a wide array of drug criminals, from Colombian cocaine smugglers to money launderers and street gang leaders in Chicago and the Twin Cities. The affidavits also allege that the Pluffs distributed cocaine through legitimate businesses, including a restaurant and a barber shop in St. Paul.

James (Buddy) Pluff, 27, was a close friend of Carlos Caprice, a well-known Disciples gang leader who died of a cocaine overdose in 1988. Investigators said they had evidence linking Kenneth Pluff Sr., 52, and his 50-year-old wife to Donald Caraway, now facing federal charges of running the 7th Street Money Store in St. Paul as a front for cocaine dealing."

"...They included leaders of several Hispanic gangs in Chicago. Among Cindy's contacts was Roberto Alcaino, arrested in New York in 1988 for attempting to smuggle 2,400 pounds of cocaine into the United States. Cindy Pluff was responsible for delivering Alcaino's cocaine from Chicago to Minnesota."

"...According to authorities, in July 1988, Cindy Pluff and Rodriguez went to the Pluff farm near Markville, Minn. During that visit, Rodriguez died of what was later ruled an accidental cocaine overdose.

But some informants told police that Martinez had caused Rodriguez' death. Investigators could not substantiate that allegation, Pine County Sheriff Don Faulkner said. But, he added, a man who escorted Rodriguez' body back to Chicago was killed a week later by several pistol shots to the back of his head.

And it wasn't long before Cindy Pluff had a new boyfriend: Rudy Martinez. Police said he was running both the Coconuts bar and the Chicago-to-Minnesota cocaine business with Cindy Pluff."

"...Kenneth Jr., 29, a state-licensed police officer who had worked on the forces of Ramsey County, White Bear Township and the State Fairgrounds, apparently did not deal cocaine himself, police said. But he allegedly knew of the family's illegal business and ran license checks of cars thought to be used by informants and investigators.

Even the Pluffs' youngest children, a 17-year-old daughter and a 14-year-old son, helped out, police said. They allegedly directed dealers' cars into the alley when the drug business got heavy at the family home at 1075 E. Magnolia Av."

"...Police said the farm was a "safe house" for drugs and fugitives from the law. In recent years neighbors became increasingly alarmed about gunfire on the farm, Sheriff Faulkner said. The place had a back yard target range and a ramshackle barn that was full of bullet holes, he said. Authorities even suspected that the Pluffs had a military grenade launcher somewhere on the farm.

So when Faulkner and 22 officers raided the farm Jan. 19, they took no chances. As Faulkner and two pilots swooped within 100 feet of the house in a helicopter, deputies in flak jackets burst in the back door..."

"St. Paul / Five members of big cocaine ring that was run by family are sent to prison"

Minneapolis Star Tribune Oct 23, 1991



"Five members of a large-scale cocaine ring that authorities say was run by a St. Paul couple and their seven children have been sentenced to prison terms in U.S. District Court in St. Paul.

Most of the sentences were reduced below federal guidelines because the defendants helped authorities in other drug cases, prosecutors said.

Kenneth Pluff Sr., 52, was sentenced Tuesday to eight months in prison plus three years' probation. His wife, Kaye, 51, was sentenced Monday to 10 months plus probation.

Four of the Pluffs' adult children are to be sentenced soon, and the fifth is scheduled to plead guilty next Monday. The two youngest children are minors and were not charged in the case.

In all, the Pluff investigation resulted in federal drug indictments against 16 people in Minnesota and six alleged gang leaders in Chicago..."

Credit: Associated Press

Source of information contained in image, below: www.bop.gov Inmate 04867-041 is Pluff. 04871-041 is Pluff's father



United States v. Garcia: This is the Chicago side of the interstate drug trafficking case involving Ken Pluff and his family.

United States of America v. Camilo Testa


http://www.citypages.com/1997-11-05/news/welcome-to-pine-county/2

Ken Pluff, Sr. (below) is Ken Pluff/Brennan's father. Cynthia is Pluff/Brennan's sister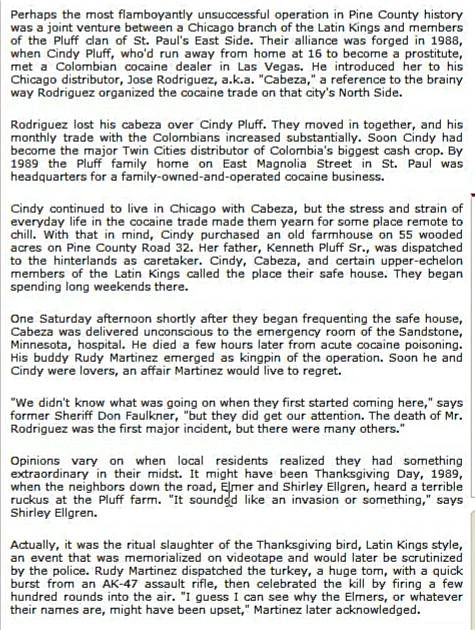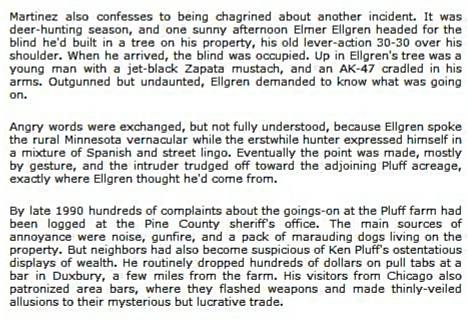 http://www.citypages.com/1997-11-05/news/welcome-to-pine-county/3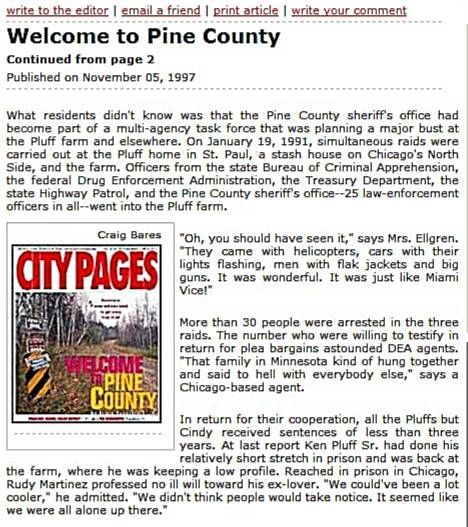 Finney transferred Foster to the SPPD Police Impound Lot. Finney, also, granted a contract to Pluff/Brennan's security firm to guard the impound lot. While Foster was working at the impound lot and for Pluff/Brennan, a witness reports that Foster and Pluff/Brennan stole items out of cars that were brought to the police impound lot. Those items included: stereos, radios, and "other items". According to the witness, Foster would steal the items from the impounded cars and "give them to Ken Brennan, putting them in the trunk of his car". The witness reports seeing "numerous items in Brennan's car trunk during this time." The witness stated that Foster always had large amounts of cash on hand.

Nothing written on this site, involves Foster's SPPD co-workers, below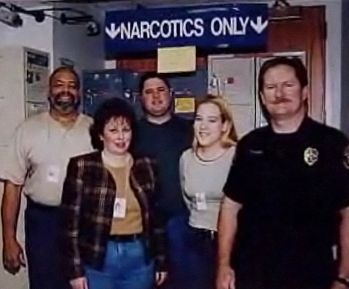 If you have any information you would like to share with us about Aaron Foster and ex-police chief; Bill Finney, please contact us at: contact@justiceforbarbara.com. We will keep your identity private!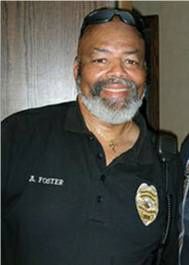 Aaron Foster often tells his girlfriends that he is "a policeman first!"
Although ex-chief Finney armed Foster with a gun, a SPPD badge, and police squad car,
Foster has never been anything other than a PD property room and impound lot clerk!

"Finney says he'll cooperate but not with sheriff"


Star Tribune
Mar 10, 2007


In a defiant letter laced with accusations of misconduct, former St. Paul Police Chief Bill Finney told Ramsey County Sheriff Bob Fletcher that he has no problems cooperating with an investigation of a 1981 death.


He just won't be cooperating with Fletcher's investigators.


"I cannot in good conscience work with your office because I believe you lack the integrity, professionalism and ethical conduct required of a Minnesota county sheriff," Finney wrote Fletcher, in a letter delivered Friday.


Finney wrote the letter in response to repeated requests by Fletcher - the latest on Monday - that the former police chief agree to be interviewed as part of the Barbara Winn death investigation.


Winn, a 35-year-old Maplewood mother, was shot to death in 1981 after a domestic dispute with her boyfriend. He was arrested but never charged, despite investigations in 1981 and again in 2002.


Finney, who was a St. Paul police sergeant at the time of the shooting, was an acquaintance of both Winn and her boyfriend.


In an interview, Finney said that he looks forward to the day when Anoka County prosecutors decide whether or not to pursue charges in the case. He said that he would never have protected Winn's boyfriend.


"If they would have charged him in either of the last times, I would have been the one to take him to jail," he said.


Finney, who challenged Fletcher for sheriff in the November election and narrowly lost, reiterated his belief in his three-page letter that Fletcher's renewed interest in the Winn case last year was a political ploy intended to defame him.


Finney accused Fletcher of "bullying" and using the Winn investigation to divert attention from recent revelations about his own department, including an ongoing FBI probe into the actions of Mark Naylon, the sheriff's public information officer.


Fletcher said that he was surprised by the letter's tone, calling it "a campaign letter that's six months too late." But he said that he let Anoka authorities know of Finney's willingness to cooperate with them.


Anoka County prosecutors, who were asked to review the case during the election to avoid a conflict of interest, said it will be at least three weeks before a decision on what, if any, charges should be brought against Winn's boyfriend.


Patty Bruce, Winn's sister-in-law, said that she is angry that the death has been made a political issue. She said that Winn's relatives are "cautiously optimistic" that prosecutors will charge the boyfriend in connection with the shooting.


"The hardest part is the waiting," she said.


Howie Padilla - 651-298-1551

THIS WAS OUR OFFICIAL RESPONSE TO FINNEY:

We find it deplorable that William Finney refuses to cooperate with Ramsey County Investigators in the murder investigation in which his long time childhood friend—Aaron Walter Foster, Sr.—happens to be the only suspect. We would like to know why William Finney, a former top law enforcement official, believes that he has the sole discretion to decide whether or not, and with whom he will or will not cooperate. This is a MURDER investigation! Since when are suspects or witnesses in any criminal investigation allowed to "cherry pick" with whom they will cooperate?

William Finney has accused the Ramsey County Sheriff of "political manipulation of-and continuing interference with-this case that is self-serving and a disservice to Ramsey County Residents." Oh, really? "Interference" with this case? Since when is an ongoing investigation of a homicide considered interference? Since William Finney is no longer "in the know", we would like to let him know that new evidence and WITNESSES are forthcoming in this case EVERY day! As long as this trend continues, the Ramsey County Sheriff's Department will continue to do their job. They are not interfering, William Finney…they are doing their jobs! Investigating the murder of a woman who was beaten without mercy, then shot in her chest, and consequently, laid face down on her bedroom floor by Aaron Walter Foster, Sr., to die in front of her three children who were helpless to do anything for her is a "disservice to Ramsey County Residents"?

Speaking of politics: It is our family, and ONLY our family, who have the right to decide who made the murder of Bobbi a political issue! William Finney would love for us to believe that it was Sheriff Bob Fletcher. Again, it is our family, and only our family, who truly know what is in the hearts of those at the Ramsey County Sheriff's Department who are working diligently toward justice for Bobbi. It is our family who believe that what the Sheriff has done by re-opening this case is nothing short of courageous. Sheriff Fletcher and his investigators have done and will continue to do what others should have done, almost 26 years ago. We are offended that, rather than cooperate with investigators, William Finney would rather make a mockery of Bobbi's death, and continue to try this case in the "political arena"!

William Finney wants us to believe that Sheriff Fletcher used this case to effectively raise a "Cloud of Suspicion over your political opponent by publicly fabricating innuendos of interference" during last year's sheriff election. Sheriff Fletcher, for the record, did not "fabricate innuendos of interference". It was our family who has always been suspicious of and, again, raised those suspicions in the media last fall, about Finney's attendance of Bobbi's autopsy in 1981. It was Finney, him self, who decided to interject himself in to this investigation, by attending Bobbi's autopsy—which he had no business doing—in the first place. We have always questioned his motive and, quite frankly, feel that Finney violated Bobbi, by doing so. However, since Finney was at the autopsy, I dare him to deny that Foster left cuts, scratches, and bruises on Bobbi right before she died…

William Finney wants us and, more importantly, you to believe that there is no basis for any one to believe Foster is guilty of murdering Bobbi. The truth is, Finney knows with out a doubt that Foster has continually beat on and threatened MANY women with his guns after he killed Bobbi in 1981! Although Finney helped Foster to have his arrest and criminal records expunged, we do have the police reports, concerning these women…and Finney was discussed in most of them. William Finney, before you start with more wild accusations, it was not Sheriff Fletcher who gave us those police reports! However, it was one of your many enemies. Your kingdom is falling, William Finney…

The Family of Barbara L. Winn



POLICE CHIEF BILL FINNEY COMMITTED PERJURY

In order to put the video, below, in the proper context, you need to know a few facts about the significance of it, Finney's past statements, and his testimony, per the excerpts below, before the jury in Aaron Foster's
A FEW FACTS ABOUT THE TRIAL
Per 1981 Maplewood Police reports, Officer Cahannes reported that he "gave a breath test to the suspect Foster reading .07" at the Maplewood Police Department.
At approximately 4:00AM at the St. Paul Police Crime Lab, Foster's blood was tested for alcohol and the test results read .08. Bobbi died shortly after midnight, which means that approximately 4 hours lapsed before Foster's blood was drawn.
Earl Gray, Foster's attorney, filed a motion to have Foster's blood alcohol test results suppressed. The motion was granted by the judge.
In his opening statement, Gray told the jury that the prosecution failed to tell them that Bobbi, at the time of her death, was "drunk" (with emphasis) and that her blood alcohol read .13, per blood tests taken by the medical examiner.
In his closing argument, Gray emphasied that Bobbi was drunk, before he told the jury "no one ever told you that they saw Aaron take a drink that night".
THE VIDEO
You will watch Finney state, as he did to most of our local news and media organizations in 2006, that in 1981, he told Maplewood Police that in December 1980 he, Foster, and Barbara were "out on a date". Finney concludes his statement by saying that he told "them" to knock it off or he was going to "take them both to jail".
When you scroll down to the excerpts showing parts of Finney's testimony, you will see that he testifed that Barbara and Foster paged him from a bowling alley because they "were too drunk to drive".



FINNEY'S STATEMENTS 1981
Per the 1981 Police reports, Sgt. Green reports that Finney "stated he saw the subject assault the deceased back in December, while they sat in their car".
Per the 1981 Police reports, Sgt. Collins reports that "Finney did say that in December he did see Foster assault the victim, and he, Finney, told him to quit or he would have to act in the capacity of a policeman".
FINNEY'S TESTIMONY
Finney testified that "She pushed him, he pushed her back, and ultimately he slapped her."
Finney told jurors that he knew Barbara because they "all grew up together in the Central area" and that he met her in the mid 1970's "through ex-boyfriends of hers".
Finney told jurors that he dropped Bobbi and Foster off because he was "disgusted" with them and that he does not like people with "confusion".
TRIAL OPENS IN 1981 DEATH OF MAPLEWOOD WOMAN
Minneapolis Star Tribune
PAT PHEIFER
July 18, 2008
[Excerpt] "When Aaron W. Foster and Barbara (Bobbi) Winn climbed into the back seat of Bill Finney's car on a December night in 1980, they were drunk and literally fighting mad. "She pushed him; he pushed her and, eventually, he slapped her," Finney, the former St. Paul police chief, told jurors Thursday... Finney said he was off duty when he picked up the couple at a bowling alley in St. Paul's Midway Shopping Center. He said he heard, rather than saw, the loud, open-handed slap. "She went into submissive mode," Finney said. "I went into aggressive mode. I pulled to the curb and told them 'Knock it off. Don't make me be a police officer tonight.' I wasn't too happy with either one of them."
THREE TESTIFY ABOUT MOTHER'S LAST MOMENTS IN 1981 MURDER TRIAL
Pioneer Press
By Emily Gurnon
07/18/2008
[Excerpt] ...Finney said that one night, in December 1980, Foster and Winn paged him. They wanted him to give them a ride home from the Midway Bowl because they were too drunk to drive, he said. Finney was a police sergeant at the time but off duty. As they climbed in the back seat of his car, Finney said, the couple argued "about somebody paying too much attention to her." "She pushed him, he pushed her back, and ultimately he slapped her," Finney said. At that point, "She went into a submissive mode," he said. "I went into an aggressive mode." He pulled over and told them to start behaving themselves. "Don't make me become a police officer," he remembered saying...
Finney and Gray did their best to make Bobbi look like a drunk, which she was not. When Finney testified, rather than repeating his widely reported (2006) account that "the three of them were out on a date", he testified that he picked Bobbi and Foster up at a bowling alley, simply, to give them a ride, because they were too drunk to drive.
In 1981, Finney told officers that it was Foster who assaulted Bobbi in 1981, and that it was only Foster whom he threatened with arrest. In 2006, Finney's account changed to "I'd take them both to jail".

In 1981, Finney told Maplewood police officers that he saw Foster assault Bobbi in December 1980. But, when Finney testified before the jury, he told jurors that he did not see Foster hit Bobbi. Instead, he testified that he heard Foster slap Bobbi.

Finney never claimed in 1981 or 2006 that he witnessed Bobbi pushing Foster. In 1981, he clearly states that Foster assaulted Bobbi. In 2006, Finney states that "they were wrestling around" in the back seat of "his" (in 1981 he said they were in "their") car. But, under oath, Finney testified that Bobbi was the one who got physical with Foster by pushing him. Finney made Bobbi look like the abuser.
Finney, also, did his best to have the jury believe that Bobbi had a lot of ex-boyfriends. Was he trying to make it look like Bobbi was a tramp, in addition to being abusive and a drunk? Finney went all out to protect Foster, again. But, this time, he committed perjury at least two times. Everything Finney told jurors was for Foster's benefit and to Bobbi's detriment. Finney has Bobbi's blood on his hands, and both he and Earl Gray will have the blood of Foster's next victim on their hands. It is not a matter of "if" Foster will kill, again. It is a matter of when and who he will kill next.
There are some things that Finney does NOT know about Bobbi that prove he was lying to the jury, concerning how, when, and who he met her through. Those details will not be revealed, right now. In the event that authorities wish to pursue our claim that Finney committed perjury, we will give those details to prosecutors. Whether Finney is prosecuted for perjury or not, he will be tried and convicted in the court of public opinion, along with his good friend: the animal who murdered Bobbi; Aaron Foster...we'll see to that!!

Finney helped Foster murder Bobbi, again, in that courtroom. The only difference is that, this time, we had to watch!


Witness Intimidation? You Decide!

Foster has an extensive history of beating women and threatening them, multiple times, with guns. Bobbi's neighbors were fully aware that Foster beat Bobbi, often. Unfortunately, Bobbi's neighbors and witnesses to what happened at Bobbi's home, who are named in the 3 page police report at the top of these documents, refused to cooperate with prosecutors. The 4th document you will read is a police report describing an incident in which Foster pulled a gun on a man about one half hour before he appeared at the bar where he asssaulted Bobbi after she told him to get his things out of her home. The 5th document is a police report from the 2002 investigation in which the investigator tried to contact all witnesses in the first 4 documents. None of the witnesses who were located by the investigators, in 2002 and 2007, would cooperate, and this document pretty much explains why they would not testify against Foster at the trial. In addition to the witnesses who refused to cooperate with investigators and prosecutors, above, there is another man; Donnie Jones, who refused to cooperate, as well. A witness who was at the Tipsy Tiger bar on May 7, 1981 said that Foster threatened Jones, by telling him that he would go to his car, get his gun, and come back and shoot him. Donnie Jones refused to speak with investigators and told prosecutors that he did not see anything that happened on May 7, 1981.



Finney lied...he was NOT Bobbi's friend!

After Bobbi's case was reinvestigated by Bill Snyder and Gary Gibbs, Bill Finney tried to convince you that the case was only opened to embarrass him. Finney did his best to divert the public's attention from the fact that his friend is a murderer, by insisting that the case was nothing but a political trick. Our family made a rule that every member of our family was expected to abide by. The rule was that we were not allowed to speak the name "Bill Finney". Bill Finney was declared the "F" word in our family. But, that rule has been abolished for several reasons, the first being that Bill Finney committed perjury when he testified before the jury.

When Finney states that he was a friend of Bobbi's he is telling an outright lie! Finney was NOT Bobbi's friend, as he has stated to the media and as he testified in court. Here is one question Finney has NEVER answered:

Why did you go to the autopsy, but fail to attend Bobbi's funeral?


"In courtroom, prevailing narrative yields to evidence"
Article Last Updated: 07/26/2008 04:19:16 PM CDT
[Excerpt] " For his part, Finney said he remains convinced the case was "a tool that could be used to get my opponent re-elected.'' He said connecting him to Foster's behavior — and even, by some family members, to the unexplained loss of evidence — has damaged his reputation. "I feel damaged, and I didn't do anything wrong,'' Finney said. But he says he does understand the family's anger at Foster. "Regardless of whether he killed her or she committed suicide, I can see from the children's point of view, she's dead because of her involvement with him,'' he said."
So, Finney believes that Bobbi's death was her own fault?
Finney feels "damaged" and he "didn't do anything wrong"? Finney did many things that were wrong! Finney has protected a murderer and a woman beater, repeatedly, since 1981. The documents on this website prove that. Finney seems to think that domestic violence is an acceptable act and that it is not a crime worthy of prosecution. In fact, according to one of the documents posted on this website, when one of Foster's many victims asked Finney to help her because Foster subjected her to so much physical violence,
"Bill Finney would always tell her that "everyone has these problems and they just needed to work it out"
. Really? This makes us think that someone should go check on Finney's wife to ensure that she is in a safe environment.
More Favors, Lies, and Deception by Finney and Earl Gray

During the trial, Foster's attorney: Earl Gray told the jury that Foster is a "Civilian Policeman". Foster is not nor has he ever been a civilian policeman. He was nothing more than a property room and impound lot clerk. Aaron Foster (at the time) was, literally, illiterate (we do not know that he has, since, learned to read and write). Since Foster cannot read nor write, he did not qualify for employment as an impound lot clerk. So, Finney dropped the written civil service exam that was required of all job applicants seeking civilian employment at the Saint Paul Police Department Impound Lot.
During cross examination, Gray asked Barbara's son if he had ever seen the gun that "Aaron used in his line of work as a security guard" prior to the night Barbara died. Gray was talking about the gun Foster used to kill Barbara. Barbara's son said that he had seen the gun in Barbara's closet, prior to the night she died. By asking the question in the way that he did, Gray gave the jury the impression that Foster had a lawful purpose for the gun he owned and killed Barbara with. Albeit, Foster did purchase the gun lawfully, he had
no legal authority to use a gun as an armed security guard in 1981
. Although Foster's arrest and criminal history was expunged, it was not expunged until some time after 1985. His criminal record, in 1985, shows that he was arrested and convicted of an assault that may have involved the discharge of a firearm. The assault took place in St. Paul on August 6, 1974. Foster was sentenced to 20 days in jail, but his sentence was suspended for one year. Given Foster's criminal history, it is highly unlikely that Foster was granted a permit to carry a firearm prior to 1985.
Below, is a copy of Foster's very first gun permit, which was not issued until 1985. In 1981, Foster was
not
a security guard. He was a bouncer at a roller skating rink and he found odd jobs working as a bouncer in local bars. In one of the documents. below, you will see that, in 2004, even Finney acknowledges that Foster obtained his
first
gun permit in or around 1985!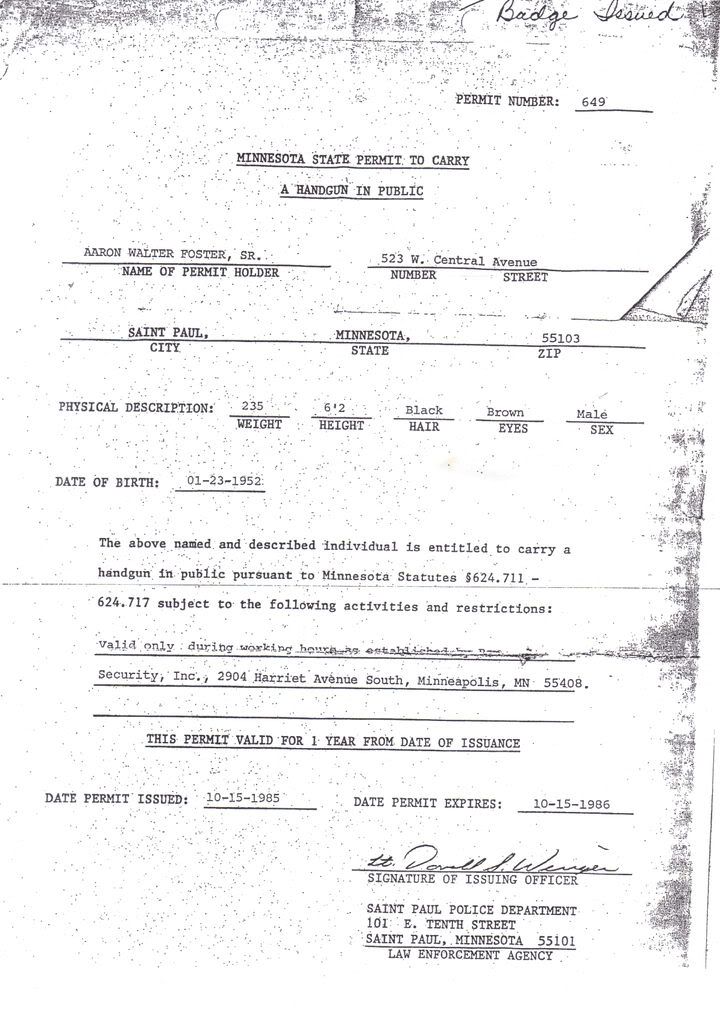 You will notice in the document, above, that Foster's gun permit included "restrictions". Finney hired Foster to work at SPPD in or shortly before 1998. In the document, below, you will see that when Finney issued a renewal for Foster's gun permit in 1999, Finney removed all restrictions that were imposed on Foster prior to 1999.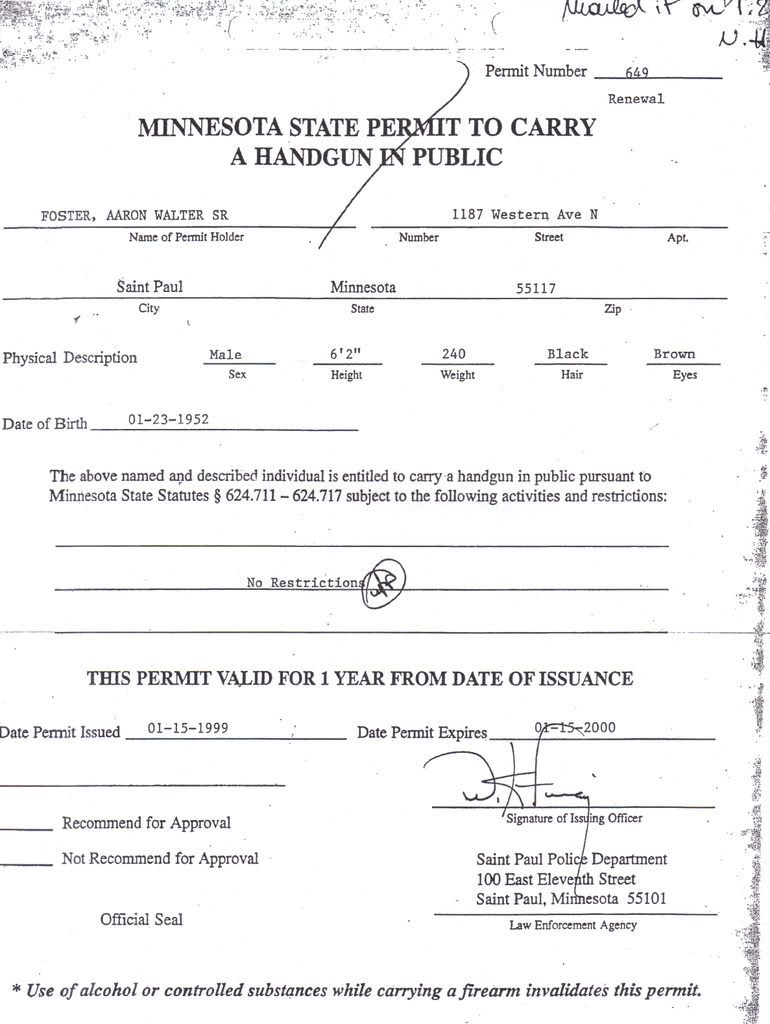 Below, is a copy of a letter that Finney wrote to Ramsey County, supporting Foster's renewal application for his gun permit.
For once, Finney told the truth. In the document, above, Finney endorses Foster's "abilities" with regards to his use of firearms. That makes sense, since we all know that Foster murdered Bobbi with a gun.
If everything you learned about Foster on this website convinces you that Foster is clearly a danger to society and, particularly, to women, it should send chills up your spine to know that Foster will probably re-apply for a permit to carry a firearm, now that he has been acquitted.